Forever Young, 14 Bank Street, Kilmarnock KA1 1HA Qudo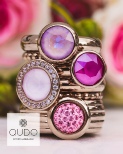 Qudo is a highly collectible range that taps into the current global trends for stackable and interchangeable jewellery. Qudo combines ingenious design and expert German craftsmanship with a huge kaleidoscope of fabulously colourful gem tops including Swarovski crystals. These can be mixed and matched to create brilliant and bespoke collections to suit any mood and wardrobe. Red Cuckoo

Established in 2016, Red Cuckoo is proud to bring bold colours and vibrant style to the high street. Each and every one of the stunning designs has been thoughtfully created by a skilled professional team which knows what's today's women are looking for.
The range combines functionality with beauty, it's their mission is to surprise and delight with their unique and colourful creations.

Miss Dee is a Swedish brand, established in 2005. All jewellery is designed in-house and carefully handcrafted which gives them all a unique expression.
Classic, clean, genuine and eye-catching designs with a Nordic touch.

Naturally all styles are nickel free and manufactured from non-allergenic materials. The base metal is mostly brass and silver plaited.
The dark coloured styles are hematite plaited.
We stock a wide range of quality products from different manufacturers. Forever Young are exclusive stockists in Kilmarnock of popular ranges Miss Dee, Qudo, Donna Richard, Arran Bay and Red Cuckoo to name but a few.
Below are some details on a few of our best sellers.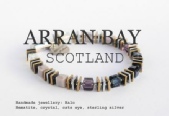 ARRAN BAY
Handmade in Scotland using the finest semi precious stones, Arran Bay jewellery draws from the stunning scenery surrounding the West Coast of Scotland, with colours reminiscent of blue skies; rugged landscapes and breath-taking sunsets over the island of Arran.